The year might be coming to an end but there's no rest for mummies around the world. Chinese movie darling Zhang Ziyi of 'Crouching Tiger Hidden Dragon' fame became a mummy for the first time on 27 December with the birth of her daughter, adding to a list of celebrities (such as Singapore's own Joanne Peh and Carole Lin) who joined the 2015 Mummy Club.
As we countdown to 2016, we've decided to celebrate by paying tribute to our list of favourite celebrities who — like two of our founders here at Mummyfique — became mums for the first time in 2015. On behalf of the team, we welcome these stylish, strong women into the Ya-Ya Sisterhood of Motherhood.
1. Zhang Ziyi
One of the biggest Chinese movie stars, Zhang Ziyi is as beautiful as she is graceful. She became a mother for the first time on Monday announcing the arrival of her daughter on her Sina Weibo account with a picture of two adult hands holding the baby's hand.
Why we love her: For her grace and poise and successfully breaking into the international movie industry. Asian pride all the way!
2. Hannah Quinlivan
Taiwanese singer Jay Chou's wife Hannah Quinlivan gave birth to their daughter Hathaway Chou (who she has nicknamed 'Little Chou Chou') on 10 July. Since giving birth, the stunning model/actress has been candidly sharing her new experiences on Sina Weibo and even once asked for help on how to get Little Chou Chou to sleep.
Why we love her: Although she's young, she has thoroughly embraced motherhood and we love how she's sharing her journey into motherhood with her followers.
3. Jessica Biel
Known to many of us as Mary Camden on 7th Heaven (yes, we all grew up watching the TV drama), Biel gave birth to her son Silas Randall Timberlake on 11 April this year. The wife of Justin Timberlake is also about to launch Au Fudge, a children-friendly social club.
Why we love her: For bringing an element of glamour to eating out with the kids. Au Fudge has been dubbed the SoHo House for kids — how fun.
4. Leighton Meester
Her character Blair Waldorf in the TV adaptation of Gossip Girl finished the series as a mother to a lovely little boy with on-screen husband Chuck Bass. In real life, Leighton Meester became a mother to Arlo Day Brody with former OC-star Adam Brody on 4 August.
Why we love her: For bringing Blair Waldorf (and her flawless preppy chic sense of style) to life. Meester was born when her mother was serving a jail sentence but that has not stopped her from carving a great life for herself and that deserves major props indeed.
5. Keira Knightley
English actress Keira Knightley and her impossibly hip musician husband James Righton (of The Klaxons) became parents to little Edie Righton in May this year. Although she is a new mother, the Oscar-nominated actress is already back at work and recently made her official Broadway debut, playing the title character in Thérèse Raquin.
Why we love her: For proving that being a new mother is not an impediment to continuing a successful career and for her amazingly chic pregnancy style (pictured above).
6. Sophie Hunter
English theatre director Sophie Hunter may be better known as Benedict Cumberbatch's better half but she's no shrinking violet. Not only is she a well-regarded director, in October this year, just months after the birth of her son Christopher Carlton Cumberbatch in June, she successfully staged the critically acclaimed The Turn of the Screw in Suffolk and London for Aldeburgh Music.
Why we love her: For giving the world mini Cumberbatch (which in itself should be 'nuff said) and oh, did we mention that she's smart as a whip to boot.
7. Naya Rivera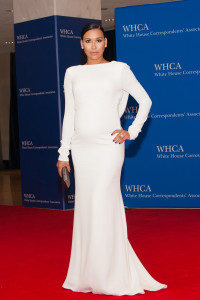 Known for her role as cheerleader Santana Lopez on Glee, Naya Rivera gave birth to her son Josey Dorsey in September this year. She has been sharing her experiences on motherhood (and breastfeeding) as a guest blogger on PEOPLE Babies.
Why we love her: We love the absolutely chic nursery that she created for her son together with designer Angelo Surmelis. With a colour palette of black, white, cream and gray, the room is stylish yet practical and has served as an inspiration to members of the Mummyfique team.
8. Coco Rocha
Supermodel Coco Rocha has come a long way since she Irish-danced her way down Jean Paul Gaultier's runway in 2007 to becoming a mother to daughter Ioni James Conran on 28 March. Cute baby Ioni has been following her mother to fashion shows, we can't think of a better accessory to be honest.
Why we love her: Rocha's little tot is just about the most stylish baby around. The model clearly hasn't been resting on her laurels and has just announced the launch of her own fashion brand Co + Co.
9. Tasha McCauley
Joseph Gordon Levitt's wife Tasha McCauley may not be a celebrity per se but she's certainly a star in our eyes. McCauley, who gave birth to a son in August holds two degrees and is a successful business woman who is co-founder and CEO of Fellow Robots.
Why we love her: She heads a company and is a ROBOTICS SCIENTIST, need we say more?
10. Vivian Hsu
The baby-faced Vivian Hsu had a difficult pregnancy with cervical incompetence and was put on bed rest for a long while towards the end of her pregnancy but the mother persevered and successfully gave birth to son Dalton Lee in August this year.
Why we love her: For not giving up and maintaining positive throughout what was undeniably a difficult time. A mother's love really is amazing. Plus, recent pictures show that she's back to her svelte pre-pregnancy self and looking fab — we couldn't be more pleased for her!