Joseph Schooling is the talk of the town. At the age of 21, he made history by becoming Singapore's first ever Olympic gold medallist in the men's 100m butterfly category at the 2016 Rio Games.
He has done our nation proud. Although he was up against more experienced swimmers — including his childhood idol Michael Phelps — he beat them all, and even set a new Olympic record while he was at it.
But what are the ingredients that helped him to attain such phenomenal success? Grit? Ambition? Perseverance? Self-belief? Beyond hard work and consistent training, he clearly possessed other qualities that helped him achieve this feat.
Inspired by his win, we thought to ourselves, how can we help our children dream big and realise their potential? So in this story we've put together our list of five skills that we think could help an aspiring Olympian make it to the top as well as our pick of enrichment classes to develop those traits.
1) Physical Fitness
Swimming builds physical strength and confidence in young children and helps them build cardiovascular endurance. To get them started, you can send your kid to a swim school such as Swish Swimming which teaches the little ones swimming in a fun, rub-a-dub-dub way.
Their classes (30-minute group lessons cost $32 for weekdays and $34 for weekends) are designed with young kids in mind and your little one can look forward to fun games and silly songs in the water, all while gaining water confidence and foundational safety skills.
Their new premises at Loewen Road boasts pools that are temperature controlled, so you'll never have to deal with shivering cold babies. We also like their low instructor-to-student ratio of 5:1.
Another place that we recommend is Elite Coach that uses a proven, step-by-step approach called Swim To Fly that has been developed by its founder and CEO Christian Anseaume. Want your child to dream big? Coach Christian's methodology draws on mental imagery and representations to help young minds focus on, and achieve, set goals.
For older children with some experience, the coaches will focus on honing their technique and self-confidence. Sometimes this entails some modification of their existing technique and swim habits.
Elite Coach (group classes range from $35 for 30 minutes to $50 for 1 hour) caters to children aged two to five years of age and lessons are conducted in small groups of up to five children. You can request for the coaches to conduct lessons in the comfort of your own home.
Swish! Swimming: 72 Loewen Road, #01-08 Dempsey Hill Singapore 248848, Tel: 9832 2522
Elite Coach: 2 Sinaran Drive, Condo Soleil Singapore 307467, Tel: 8112 9162
2) Agility and Discipline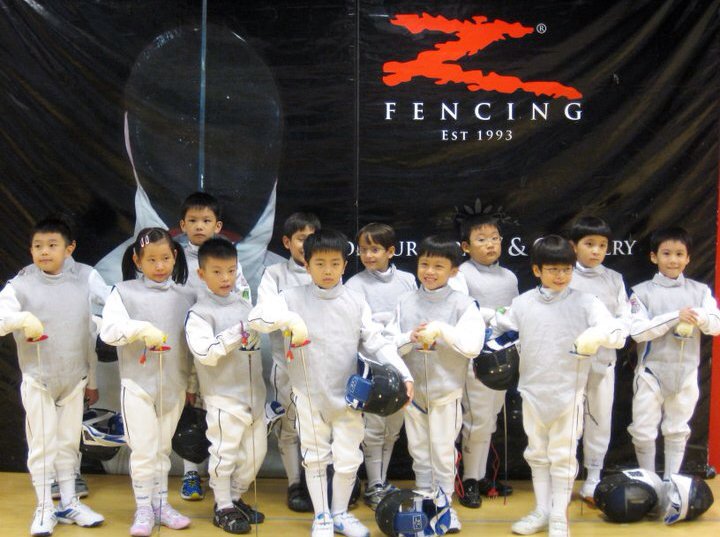 Image: Z Fencing
An elite athlete will always benefit from physical agility but on top of that, an innate sense of discipline will definitely help as well. A great way to train both is to pick up a sport like fencing.
Fencing has been described as the 'physical chess' of the Olympics. Apart from building discipline and physical agility, it also requires a certain degree of mental concentration. Parents who wish to send their children to fencing classes can check out Z Fencing. Founded in 1993 by an Olympian and three Singapore national fencers, Z Fencing is the first private fencing academy to be established in Singapore and is also touted as the country's only structured and graded fencing programme
Z Fencing offers three different programmes for different levels of students. The Core programme introduces fencing at a beginner's pace while building the necessary foundations to the sport. At this early stage, it also helps to nurture the love and appreciation for the sport while instilling values such as discipline and sportsmanship.
The Development programme is a faster (twice-weekly) track that offers budding professional fencers a more intense training  scheme Development fencers can compete at school and club level, or take this as their main school CCA.
The Elite programme is a two to three times a week programme that caters to fencers who desire to perform at their highest level. Elite fencers can look forward to overseas training camps and competition exposure. They may even quality for Youth Olympics, or other international and regional competitions.
Z Fencing caters to children from as young as four-years old. Fees for the beginner 45-minute classes are $706.20 for a three month term.
Z Elite Fencers Academy: SAFRA Toa Payoh , 293 Toa Payoh Lorong 6 #04-01 Singapore 319387. Tel: 6354 0102 / 6295 1432
Z Fencing Novena: 165B (Level 3) Thomson Road Goldhill Centre Singapore 307618, Tel: 6352 6010
3) Focus and grit
A professional athlete will need all the focus and attention he can muster to stay eagle-eyed on his goal. Help your future Olympian get a head start on discipline by sending them to classes at a place like The Little Executive.
At The Little Executive, their approach is built on three pillars: essential skills, learning habits and the growth mindset. It is designed to help children develop a growth mindset and a 'can do' attitude, so this will come in handy especially when faced with setbacks and difficulties.
Their curriculum is developed by teachers, therapists, and specialists experienced in the field of learning and education. Currently catering to children from Nursery 2 to Primary 1 levels, they focus on building what they refer to as executive functioning skills. This group of skills consists of working memory, impulse and emotional control, flexibility, planning and prioritising, self-monitoring, and task initiation. They play a key role in helping to follow through tasks from the beginning to the end, decision-making and problem-solving.
Regular classes start from $660 for a term of 11 classes, for 1.5 hours.
The Little Executive: 144 Bukit Timah Road Singapore 229844, Tel: 6908 1889
4) Mental dexterity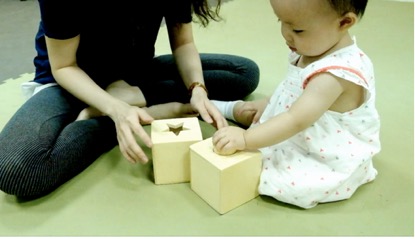 Image: BrainFit Studio
While physical fitness and abilities are key to competing at the highest levels, it is easy to forget that many sports require strategy and thinking as well. From deciding when to conserve or expand energy, to placement of balls in sports like tennis, or even deciding how to adapt your playing style to beat your opponents, mental dexterity is an important quality to possess.
To train mental dexterity as a child, parents can send their kids to classes at a place like BrainFit Studio. For the people at BrainFit Studio, brain fitness is as important as body fitness. Their programmes aim to build brain fitness and robust intelligence pathways in young ones.
BrainFit offers different programmes targeted at different levels. For infants and toddlers from nine months to three-years old, there's BrainFit Baby, which is aimed at building brain fitness and intelligence in a young child. Your child's brain will be stimulated in five key areas: sensory-motor, visual, auditory, focus-memory and EQ. This is achieved through the centre's smart play methodology, which involves play-based activities like manipulative play, sensory play, and pretend play.
BrainFit Junior is aimed at helping preschoolers aged three to six prepare for primary school. The 80-minute classes work on various foundational skills such as sequential learning, spatial sense and visualisation, and sensory-motor control skills. These will not just be helpful in the classroom setting but also in everyday life and especially on the competition field, when kids need to rise up to the challenge.
Fees for a four-month term for Juniors cost roughly $1,500. Each session lasts 80 minutes.
BrainFit Studio:
BrainFit Studio, Novena 193 – 197 Thomson Road Goldhill Centre Singapore 307633, Tel: 6737 3511
BrainFit Studio, Marine Parade 1 Marine Parade Central, #08-07 Parkway Centre Singapore 449408, Tel: 6344 8434
5) Teamwork and social skills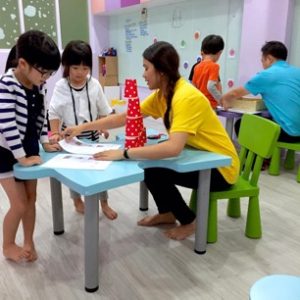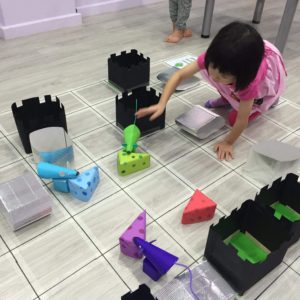 Image: People Impact
Elite athletes will often find themselves in the limelight and knowing how to handle themselves in social settings is an important quality.
To nurture a child's emotional quotient (EQ) from a young age for example, would be very useful in these situations. A place like People Impact for instance, offers a play-based learning methodology to help nurture children's IQ and EQ. Their IQ/EQ programme is tailored for little ones between three and 16 years of age, and is focused on building cognitive and socio-emotional skills, as well as confidence. Their modules include leadership, communication, time management, anger management, and logic.
Those who play in team sports will also need to be equipped with social skills in order to effectively be a part of a team. People's Impact, with their dual focus on the IQ  – including logic, language, focus and memory —and EQ — such as self-esteem, anger management, anxiety-coping skills — sides of things, seems to offer a good balance.
They have different packages for students, but the monthly fee range is around $400.
People Impact:
Upper Thomson Branch (HQ): 213 Upper Thomson Road Level 3 Singapore 574348, Tel: 6451 4908
City Square Mall Branch:  180 Kitchener Road #08-01 Singapore 208539, Tel: 6509 6570
Tampines Branch: 3 Tampines Central 1 Abacus Plaza Singapore 529540, Tel: 6694 8380
West Coast Plaza Branch: 154 West Coast Road #01-74 Singapore 127371,Tel: 6635 8573