I absolutely love going to Hong Kong, largely because I really enjoy the food there. Dim Sum, roast meats and classic Cantonese cooking are all the ingredients that make up a perfect holiday in my books.
Most of my favourite places in Hong Kong aren't fancy but one thing that I have learnt about travelling with children — especially if they are below the age of five — is that sometimes, it can be difficult heading to your favourite eateries. Some, like my go-to noodle stalls, are just too hot and crowded for little ones, while famous cha chaan tengs, though perfectly family-friendly, have queues that are simply too long when you have an impatient toddler in tow.
So for our last family trip to Hong Kong, my husband and I decided to take a slightly different approach to eating and looked around for fine-dining restaurants that were kid-friendly as well. We happened to be on a birthday-cum-babymoon trip so we wanted to spoil ourselves a little while we were at it.
Here are five lovely places in Hong Kong that I discovered on my last trip: they have nice, chic environments with amazing food, while also catering for the little ones.
Caprice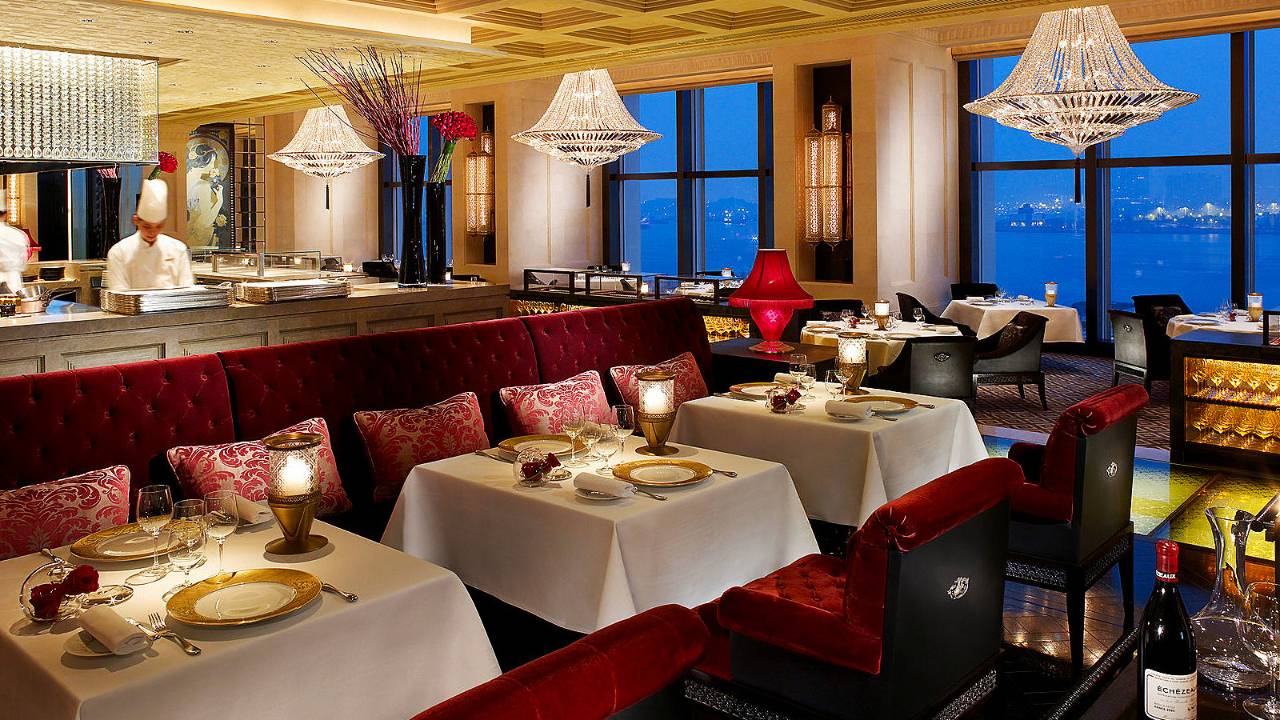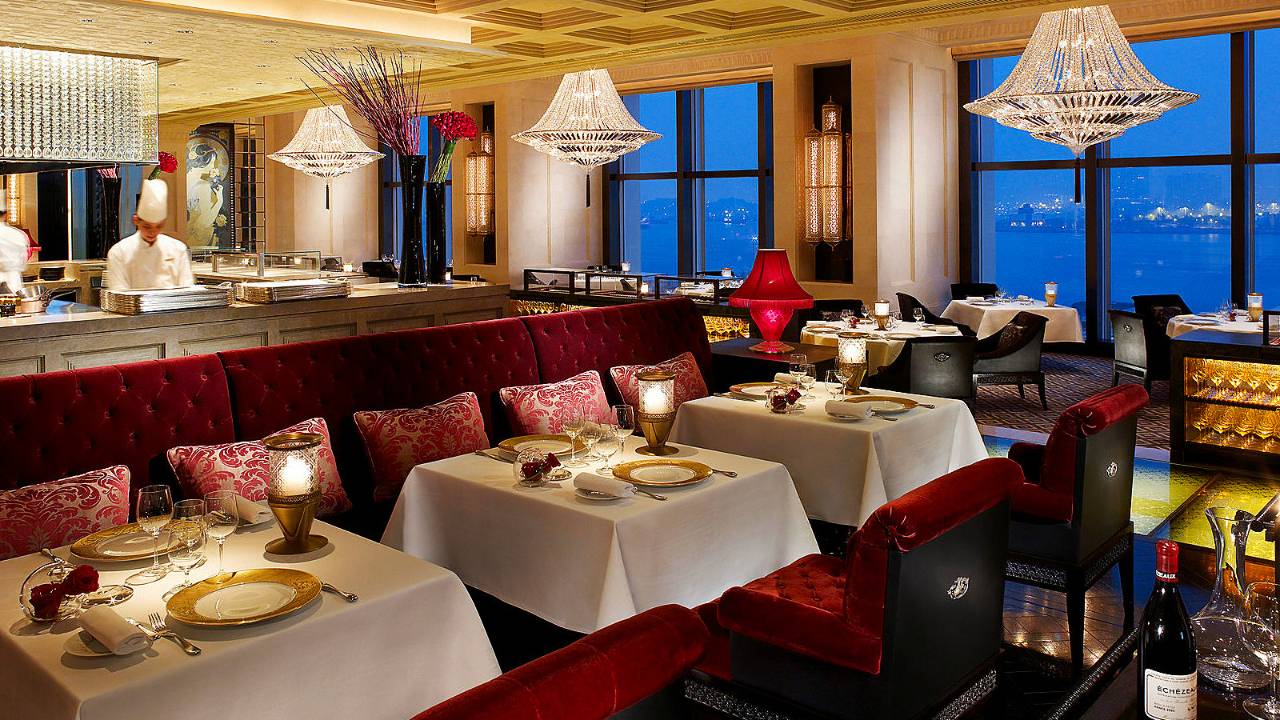 As we were travelling to Hong Kong as part of a birthday celebration, we knew that we wanted somewhere special to go. We found that Caprice, the renowned French restaurant at the Four Seasons, fits the bill perfectly.
Now, many visitors to the Four Seasons in Hong Kong would have heard of their amazing Cantonese restaurant, Lung King Heen, which is the world's first Chinese restaurant to be awarded three Michelin stars. But in my humble opinion, its two-starred French counterpart certainly does not pale in comparison.
The restaurant is beautiful — elegant, with plush furnishings, high ceilings, and evoking an old-world sort of charm with panoramic views of the Victoria Harbour. And the food is no less spectacular. It was truffle season when we were there so we opted for the special truffle menu and each dish that came out was perfectly prepared to bring out the best of the perfumed morel. When at Caprice, no meal would be complete without a cheese platter as the restaurant boasts Hong Kong's first cheese cellar, housing a vast selection of artisanal French cheeses.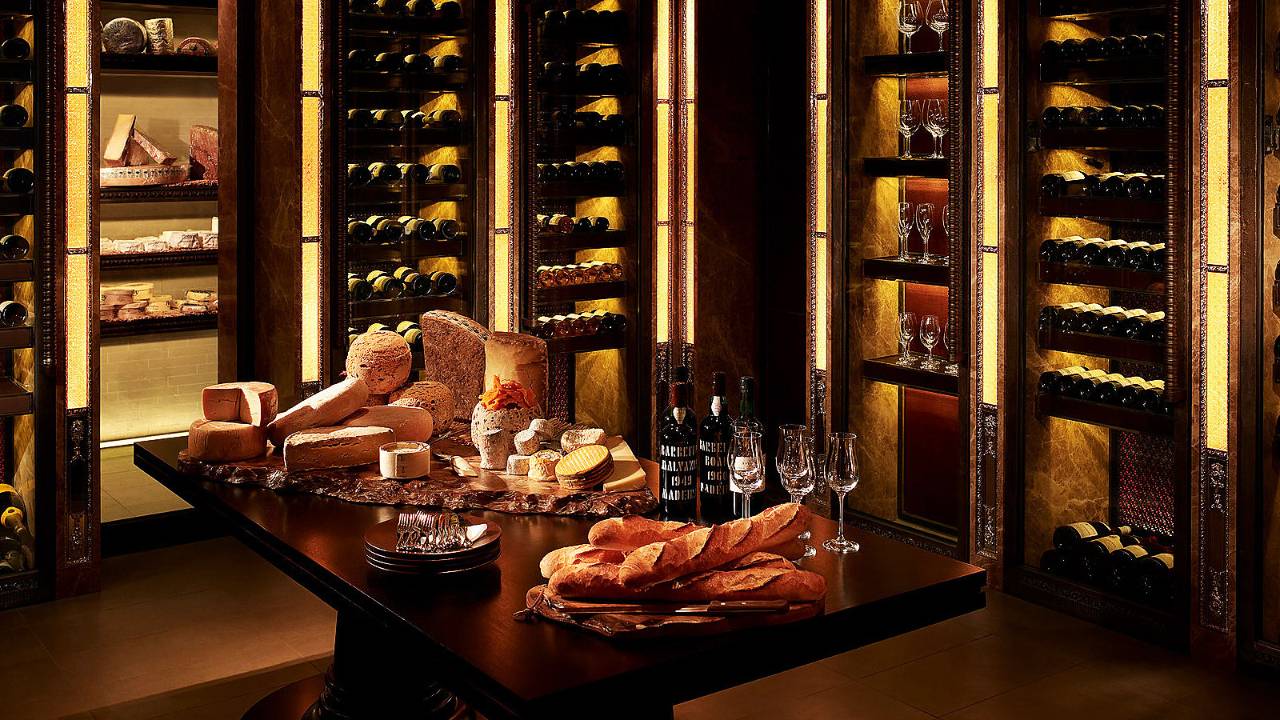 But what really impressed me most was how great the restaurant is with kids. Caprice accepts children aged three and above, and we spotted at least two other families with children in tow. And yet, you could hardly tell that they were there – none of the diners were disturbed by the presence of little ones around. I rather think this boils down to how well prepared Caprice is for young gourmands. When we arrived, activity packs and kits were at the ready for my daughter, and staff members were always on hand to entertain her. They even helped to cut up her food.
Food-wise, Caprice does not have a kids' menu but you can order from the kids' menu of the hotel's lounge downstairs or have the chefs whip up something kid-friendly. My daughter really enjoyed her pan-fried sea bass with lemon-butter sauce and broccoli on the side — talk about an indulgent experience for a young one.
All in, Caprice is a must visit when in Hong Kong. It was definitely one of our best finds of the trip — truly impressive.
Caprice
6/F, Four Seasons Hotel Hong Kong
8 Finance Street, Central, Central, Hong Kong
Tel: +852 3196 8860
Tin Lung Heen
When one thinks of Hong Kong, one inevitably thinks of dim sum and when I say that Tin Lung Heen takes the idea of dim sum to a whole new level altogether, I'm not joking.
Located on level 102 of Elements, International Commerce Centre where The Ritz-Carlton is located, the two-Michelin-starred Tin Lung Heen is definitely a restaurant that leaves an impression. Not only is the view spectacular, the food is refined yet delicious.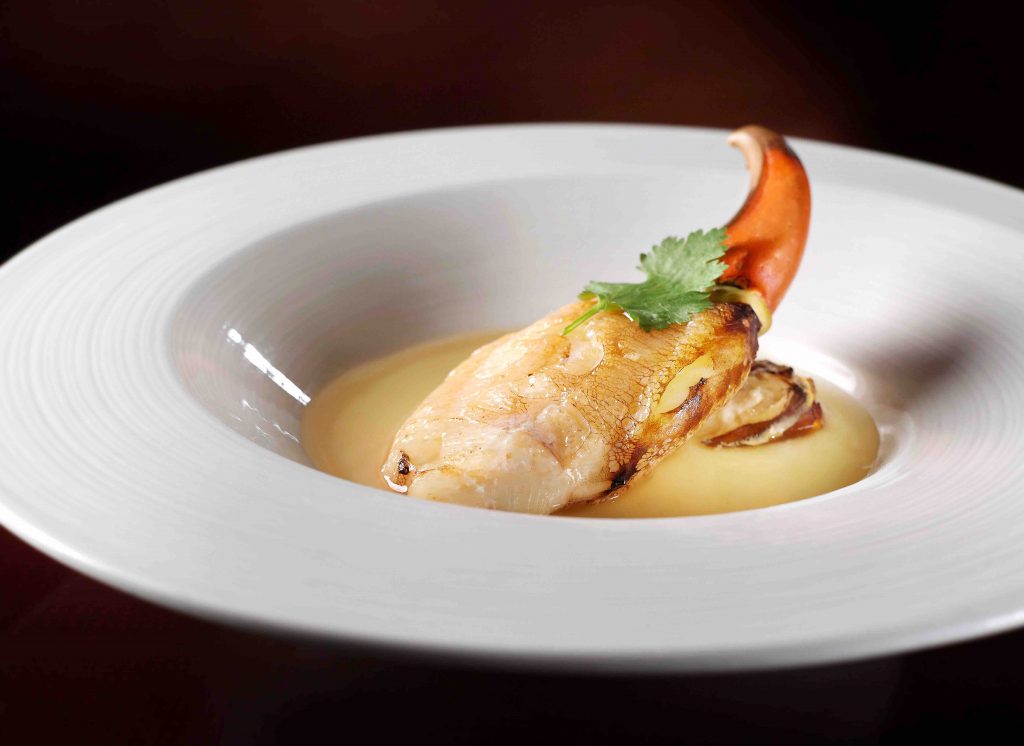 Delicate morsels of dim sum the likes of its famed Baked Abalone Puffs with Roasted Goose and Steamed Golden Shrimp Dumplings with Bamboo Shoots and Asparagus, are exquisitely presented and burst in your mouth with freshness and flavour. Other must-try dishes include the restaurant's Iberico Pork BBQ Char Siu that is undeniably indulgent as well as its signature Steamed Crab Claw with Egg White that is delicate yet delicious.
There are plenty of options for the kids to enjoy as well: from nutritious soups to fried rice and lovely congees. There are ample high chairs and kid-friendly utensils so you don't have to worry that they will be out of place.
Plus, there's nothing quite like an amazing vista to keep them entertained, making Tin Lung Heen just the place for a lovely family meal out.
Tin Lung Heen
Level 102, International Commerce Centre,
1 Austin Road West
Kowloon, Hong Kong
Tel: +852 2263 2270
Grissini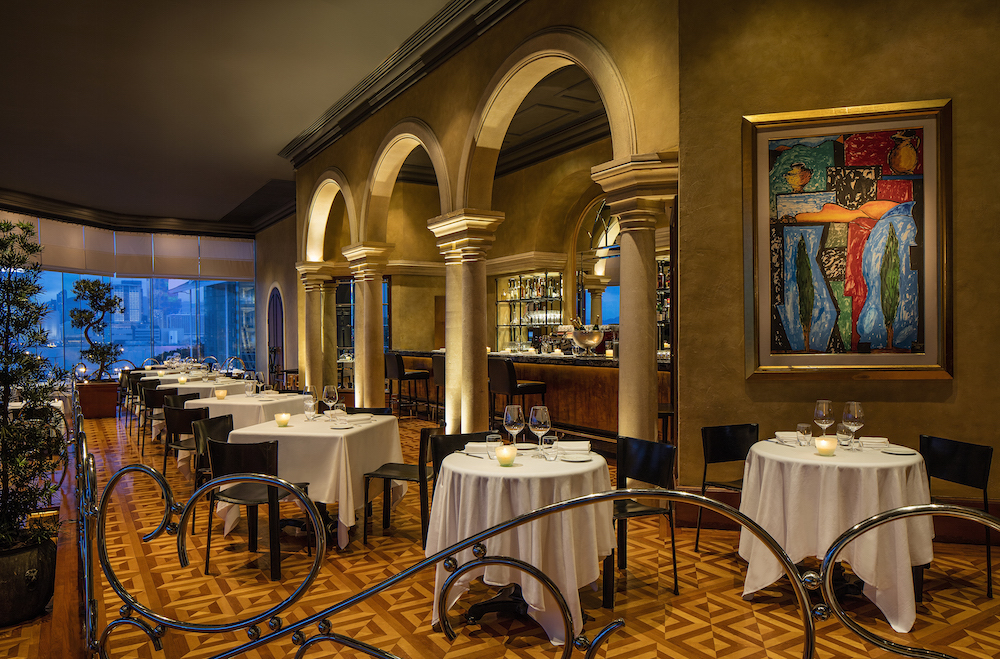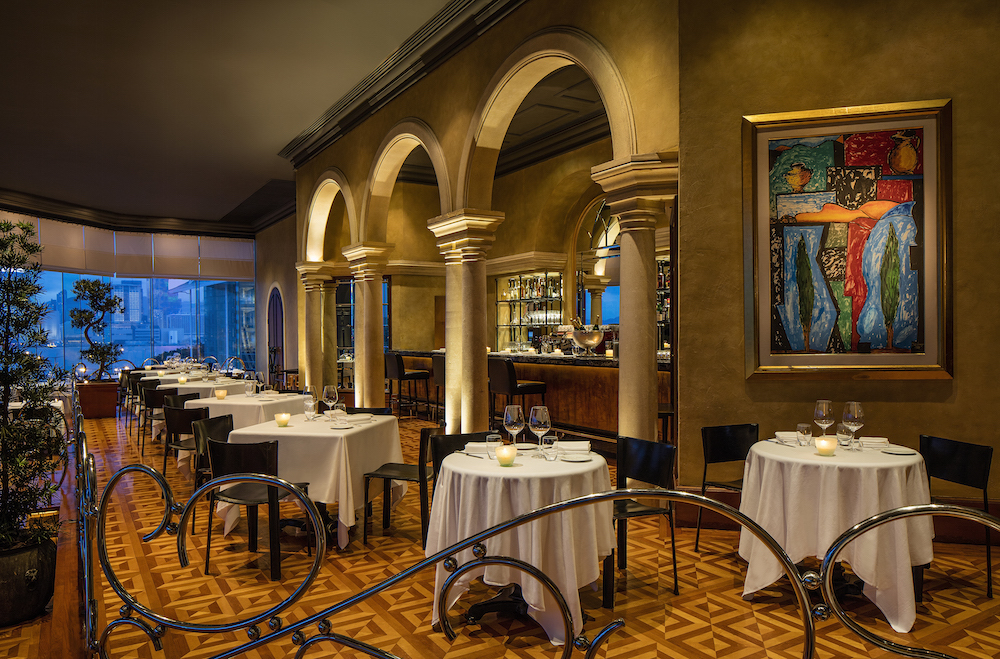 An Italian institution in Hong Kong, Grissini at Grand Hyatt is known for its authentic Italian cuisine and its eponymous grissinis that are super-addictive.
Located on the second floor of the hotel, the restaurant offers panoramic views of Victoria Harbour with an ambience that is old school, yet stylish, complete with Philippe Starck chairs and contemporary paintings by Tony DeLap. The food at Grissini is lovely, featuring seasonal produce that is treated with love and respect and with Italian flair. Under the hands of the young but talented chef de cuisine Alessandro Cozzolino, the humble butternut squash is turned into a beautiful soup that had us wanting more. The grilled squid we had was just as impressive – the dish was simple but prepared so superbly that it was bursting with freshness and flavour.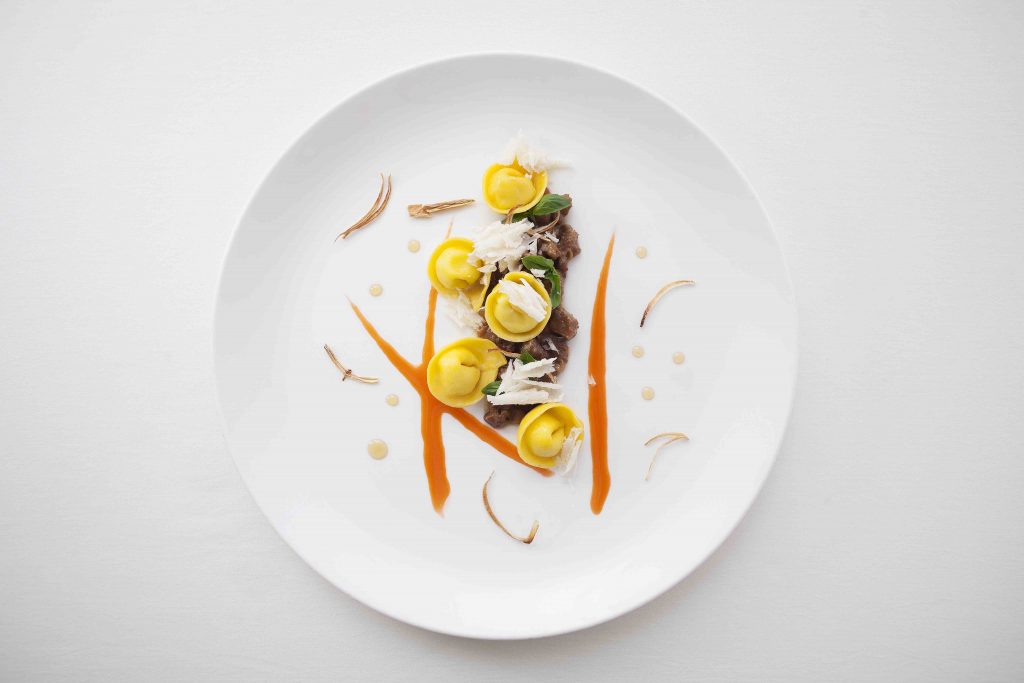 The restaurant leans more towards formal dining but there's a convivial atmosphere that is so ubiquitous with Italian eateries, which makes it possible for families to come with their little ones. Although there is no kids' menu, the kitchen is more than happy to prepare a small portion of pasta or risotto for the young diners.
Of particular note is the large baking oven that is dramatically situated at the entrance of Grissini. This is where the famed grissinis are freshly baked before being served and children will enjoy heading there to watch the chefs in action.
Grissini
2nd Floor, Grand Hyatt Hong Kong
1 Harbour Road, Hong Kong
Tel: +852 2584 7722
Hutong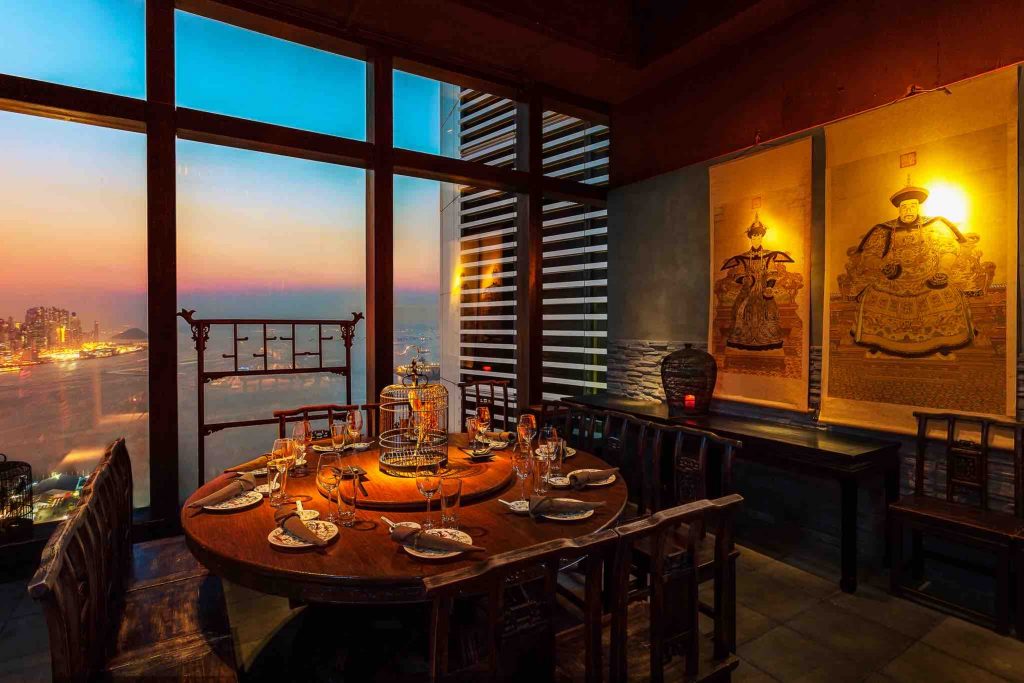 Located on the 28th floor of the One Peking building in Hong Kong in Tsim Tsa Tsui, Hutong offers stunning views, thanks to its floor-to-ceiling windows, that are guaranteed to excite the little ones.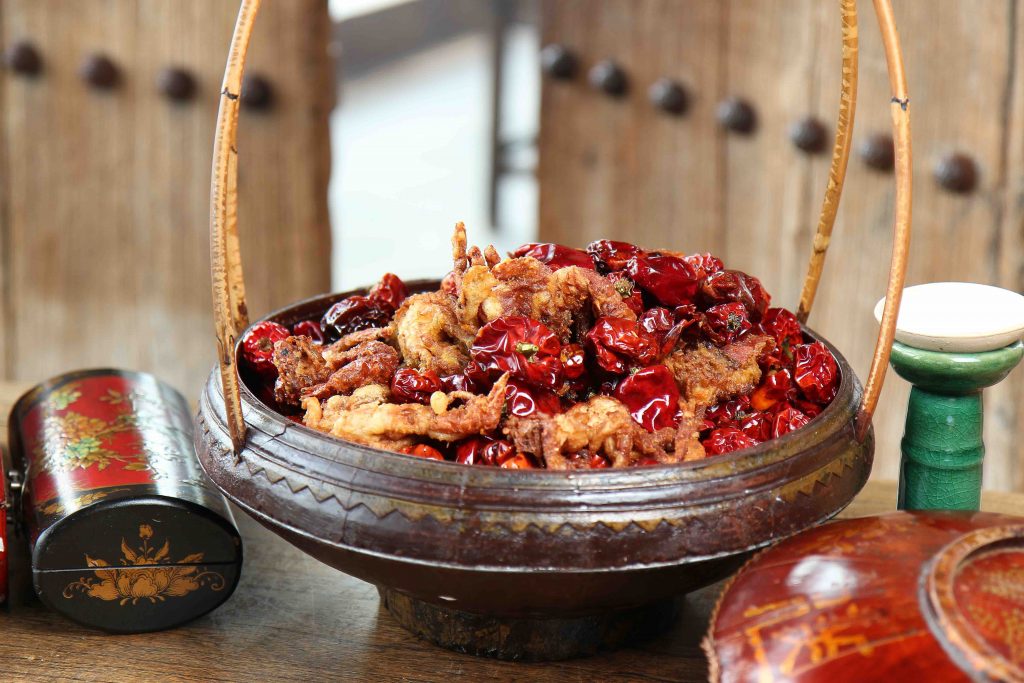 Much of the food is traditional northern Chinese and must-tries include the spiced razor clams with rose wine and its signature Red Lantern crispy soft-shell crab with Sichuan dried chilli. You would expect that, given the cuisine, there wouldn't be many dishes that would be kid-friendly but there are plenty of options — from dumplings to fried rice — that the little ones will enjoy. A slightly spicy dish of steamed cod went down well with my daughter, to both my husband and my surprise.
The best thing about Hutong is that it is a great place to visit, regardless of whether it is day or night. In the day, it is a bright, airy space that makes for a lovely lunch spot but come evening, it offers a much sexier vibe in a beautifully designed setting.
28/F One Peking
Tsim Sha Tsui, Hong Kong
Tel: +852 3428 8342
The Drunken Pot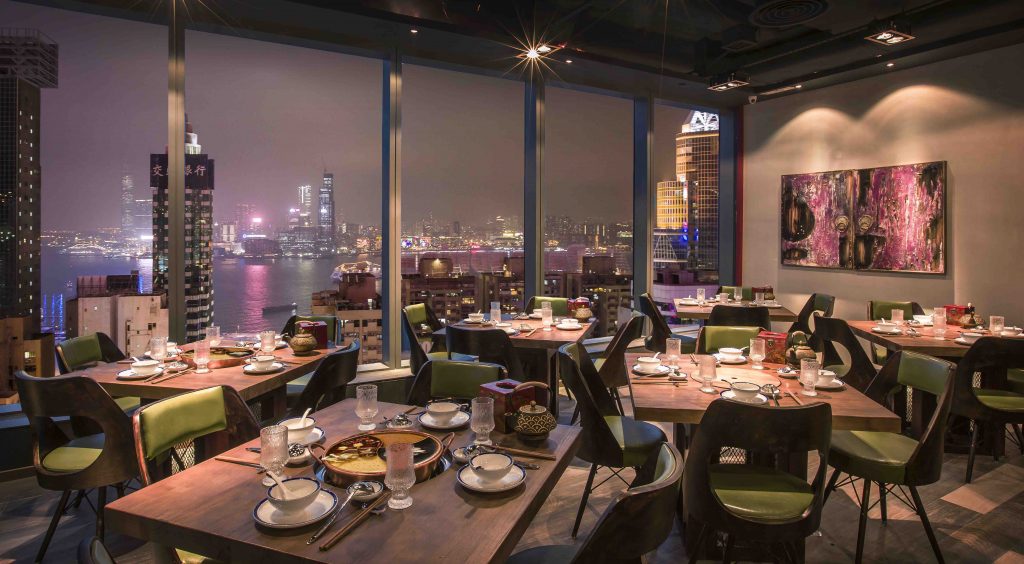 Okay, so this doesn't quite qualify as a fine-dining place per se but I really wanted to visit Drunken Pot for a couple of reasons. For one, I had seen it all over social media, but also because it takes the idea of the humble steamboat and elevates it to whole new heights.
There are two Drunken Pots in Hong Kong, one in Tsim Sha Tsui and a newer outlet in Causeway Bay that we visited. Opened late last year, this Drunken Pot has more items on the menu compared to its predecessor.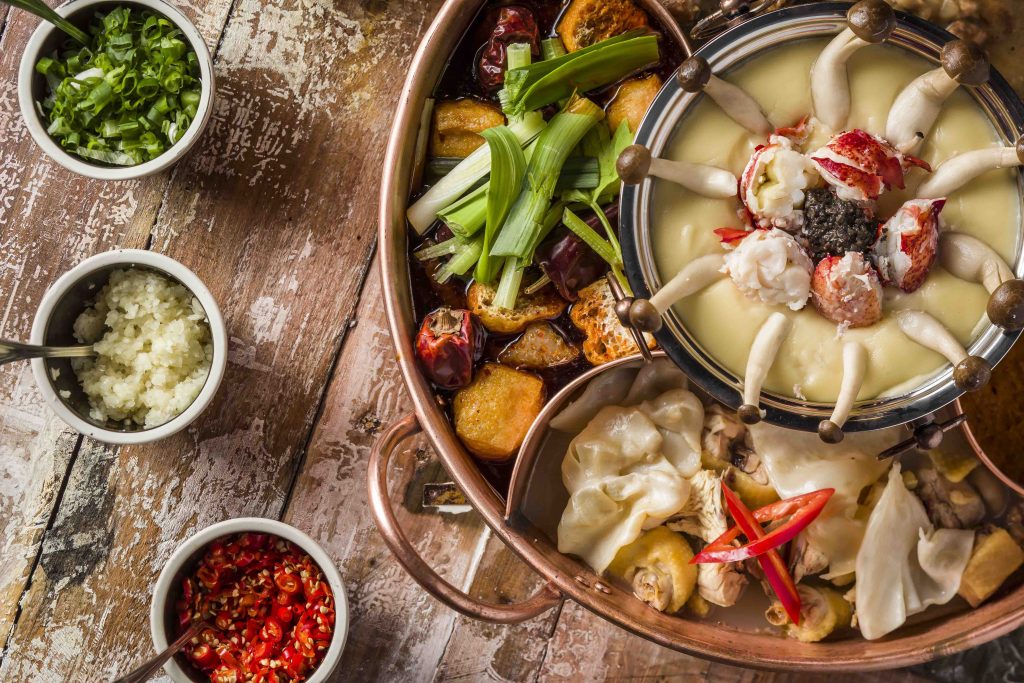 A must-try on the menu is The Ultimate Drunken Pot which features five exciting broths in one pot including Sichuan Numbing Broth, Chaozhou Satay Broth, Singapore Bah Kut Teh, Fish Maw and Chicken Broth, and the centrepiece of a Lobster, Black Truffle and Three Cheese broth. It goes perfectly with signature hot pot dishes, such as Local Hang-Sliced Beef, Deep-Fried Bean Curd and Black Truffle, Beef and Cheese Dumplings. For the little ones, The Drunken Ducklings which are essentially squid balls made with natural pumpkin puree, are a surefire hit. 
If you happen to be there over lunchtime, Drunken Pot also offers a range of dim sum that is bound to go well with your minis. Choose The Drunken Penguin: cute lotus seed steamed buns that look like cute penguins; and The Drunken Mon: butterfly-shaped steamed dumplings filled with cheese, kimchi, shrimp and pork.
The Drunken Pot
27/F, V Point
18 Tang Lung Street
Causeway Bay
Tel: (852) 2323 7098